Ranking Web Pendidikan
Klik utk lihat senarai...
Cgu, ank sy dlm thn 5 dan lmh dlm sub sains.. Sy amat ssh hati krn thn dpn dia pula akan mnduduki upsr. sy mncari2 tips utk sy praktikkn pd ank sy dan di ruangan ini sy temui segalanya.. Ats usaha cgu ini sy mndpt bnyk pengetahuan.. Terima kasih ats usaha cgu semoga diberkati segala ilmu yg dikongsikan brsama... (ummiS 8sept11 12.14am) Klik
Who is online?
In total there are
8
users online :: 0 Registered, 0 Hidden and 8 Guests
None
Most users ever online was
436
on Mon Sep 20, 2010 10:16 pm
Latest topics
»
Sila perkenalkan diri anda... tp tdk wajiblah...
by
Admin
Thu Jun 18, 2015 9:54 am
»
soalan BM
by
daniya2003
Sat May 23, 2015 8:53 pm
»
LATIHAN BAHASA MELAYU UPSR
by
daniya2003
Sat May 23, 2015 8:49 pm
»
pecahan
by
daniya2003
Sat May 23, 2015 8:41 pm
»
Karangan : GURU SAYA
by
'Ainun Najihah
Tue May 19, 2015 3:55 pm
»
14 Perkara Utama Mengenai Fail Meja
by
salshark58
Tue May 12, 2015 9:33 am
»
SOALAN KBAT
by
syrfna
Sun Apr 26, 2015 9:08 pm
»
Nak atasi subjek yang x pernah lulus !
by
Admin
Mon Apr 06, 2015 7:50 pm
»
Kawan nk x???
by
Admin
Mon Apr 06, 2015 7:48 pm
»
WAJIB DAFTAR SEBAGAI AHLI FORUM
by
Admin
Mon Apr 06, 2015 7:47 pm
»
BARU atau BAHARU
by
Admin
Mon Apr 06, 2015 7:41 pm
»
talk in english, IF YOU DARE!
by
Nuhaaa98
Tue Mar 17, 2015 10:41 pm
»
geografi NOTA
by
logapriya.murugaiah
Sat Nov 29, 2014 7:44 pm
»
bahasa melayu
by
logapriya.murugaiah
Fri Nov 28, 2014 1:06 pm
»
bahasa melayu
by
logapriya.murugaiah
Fri Nov 28, 2014 12:36 pm
»
math : Strawberry
by
ijibang
Wed Nov 26, 2014 1:21 am
»
Salam Kenal
by
erwinmaya
Mon Nov 03, 2014 11:42 am
»
English Grammar Exercises
by
M.TASHVEENA*
Sat Oct 18, 2014 11:16 am
»
berkongsi belajar Matematik
by
M.TASHVEENA*
Sun Oct 12, 2014 8:49 pm
»
BAHASA MELAYU
by
M.TASHVEENA*
Sun Oct 12, 2014 8:40 pm
»
Koleksi bank soalan UPSR
by
M.TASHVEENA*
Sun Oct 12, 2014 8:32 pm
»
Sport Day
by
M.TASHVEENA*
Sat Oct 11, 2014 10:08 pm
»
SIMPULAN BAHASA
by
M.TASHVEENA*
Sun Oct 05, 2014 4:29 pm
»
English Grammar Exercises 1
by
M.TASHVEENA*
Sat Oct 04, 2014 8:52 pm
»
Body Mass Index (BMI) @ Index Jisim Badan
by
cahaya suci
Sun Sep 21, 2014 3:03 pm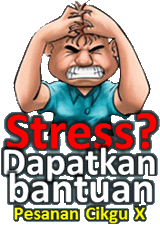 Online English Dictionary
Pengunjung / Visitors

Taken from...http://misc.mytopschool.com/index.php?option=com_content&task=view&id=50&Itemid=2

The body is flexible. It is supposed to be flexible. You must be able to bend and reach that something you dropped on the floor. You must be able to zip the back of your favorite dress on your own. You must be able to reach that book you need to read at the top shelf.

These are simple activities. Nothing grand about them, you merely stretched out a bit. However, if there are difficulties in doing such simple motions, then you have to stretch your limits. You already need a stretching program.
What Is Stretching?

Stretching is simply the act of extending to full length the body or simply a part of it. This activity involves straightening or stretching the structure or the limbs.

How Does One Do the Stretching?

Stretching is fairly easy. As mentioned in the introduction, it is involved in the normal activities. It can be done by any people, regardless of age.

However the extent of stretching and flexing differs. The muscles tighten as a person ages. The range of joint movements can be minimized. This can very well obstruct an on-the-go lifestyle. That is why as the person grows older, bending or flexing becomes more limited. This is why stretching regularly, as part of a routine is very important.
Simple stretches can be done everyday. It can be incorporated in the lifestyle and the daily activities. It does not require much of your time.

Stretching exercises can also be done while training. Actually, stretching is an essential part of any training or sport. It must be done first before anything else. Stretching the body and the limbs is a good preparation for a more rigorous activity.

Most athletes would do the sit and reach, wherein they position on the floor, extend their legs and reach the tip of their foot with the tip of their hand. Actually, most trainers actually require their athletes to really do the stretching before playing.

There is actually an ideal length of time in stretching. It is best to do it in 10 minutes. This will give the body enough opportunity to move and flex the muscles, thus preparing it for more complicated and strenuous movements.

Experts however would frown upon going way beyond 10 minutes. Stretching the exercise to 30 minutes or more will already wear out the body. This will not be favorable if one is preparing for a game.

What Are the Benefits of Stretching?

1. Increase the Range of Movement
As one constantly do the stretching exercises, the length of the muscles and the tendons are also increased. This will help in increasing the range of your movement. Thus, the limbs and joints will be able to move, way before an injury can take place. You are definitely physically fit.

2. Increased Ability to Perform Skills
When you have a wide range of movement, the more you will be able to do more things. For example, you can jump high without feeling any pain when you land back on the floor. This will also help you start a new sport or improve more if you are in one. Stretching in this aspect also allows you to have a more active lifestyle.

3. Injury Prevention
One can prevent injury to joints, tendons and muscles with stretching. When the muscles and tendons are well-flexed, they are considered in good working order. This will help in a faster recovery and decreased soreness. The muscles of the body will be able to take more exhausting and rigorous movements with less probability of being injured.

4. Reduce Muscle Tension
If the muscles are given their regular exercises and stretching, it is less likely that they will contract. This will definitely relieve you of any muscle pain or problems.

5. Enhance Energy
Being able to move more will also give you more energy. Stretching will also help enhance your awareness, like knowing that you have a body that is capable of doing many things. As such, you are going to be more driven to move rather than sulk in the corner.

6. Reduces Cholesterol
Research also shows that doing prolonged stretching exercises, like yoga, will help reduce the cholesterol in the body. This of course must be done with a healthy diet at hand. This could prevent and even reverse the hardening of the arteries, allowing you to avoid coronary diseases.

Incorporate stretching in your everyday lifestyle. It has benefits you can not say no to. It also does not require much. It can be your usual activities, bending and flexing every now and then. After all, your fitness is everything so do what it takes to keep the body healthy.
_________________mbf...

Special Rank




Number of posts

: 3202


Registration date :

12/11/2008




---
Permissions in this forum:
You
cannot
reply to topics in this forum